Graham Sturt
Creative Director and Partner | D8 Strategic Creative Agency
Graham is Creative Director and Partner at D8, a strategic creative agency based in Amsterdam, Glasgow and Hong Kong. D8 work with diverse clients across media sectors, including podcasting, from independents and new talent to established national and global brands like BNR Nieuwsradio, the BBC, Spotify and Canal+.
Graham is active in the international creative community as an awards judge, collaborator, guest speaker and mentor for emerging creative talent.
A passionate advocate of Dutch design, he hosts an ongoing series of interviews with some of the country's greatest designers called 'Dutch Design Heroes'.
[nieuws]   'Een podcast is een flexibel medium'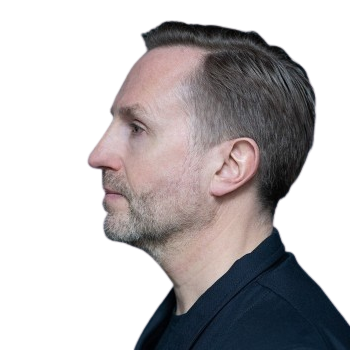 Make your mark: the importance of branding in a world of podcasts
Parallelronde I: 11:30 - 12:00
We will talk about our journey, and what we have learned, about creating high quality podcast branding and promotional assets for a diverse range of content producers. We will share real life examples, including:
BBC - branding over 100 podcasts for the world's oldest national broadcaster
Spotify - supporting the audio streaming giant's move into podcasts
BNR Nieuwsradio - helping the Netherlands' leading business news radio station stay sharp in a changing media world
Talking New Energy - an independent podcast focusing on the energy transition